News
23 October 2020
PoolTogether Launches New No Loss Protocol
Last week, we wrote about PoolTogether in anticipation of its future V3 launch. Well, that day came sooner than expected and PoolTogether V3 is now live. Check out my full piece to read about the potential of PoolTogether.

To refresh your memory, PoolTogether is known for its "no-loss lottery." This works by putting the proceeds from lotto ticket sales (paid in Dai) to work in a lending protocol like Compound where it earns interest. The winner collects the accrued interest and everyone else gets their contributions refunded. No one loses.
To date, PoolTogether has garnered over 12,000 cumulative lottery players which makes it one of the most utilized protocols in DeFi, not including decentralized exchanges.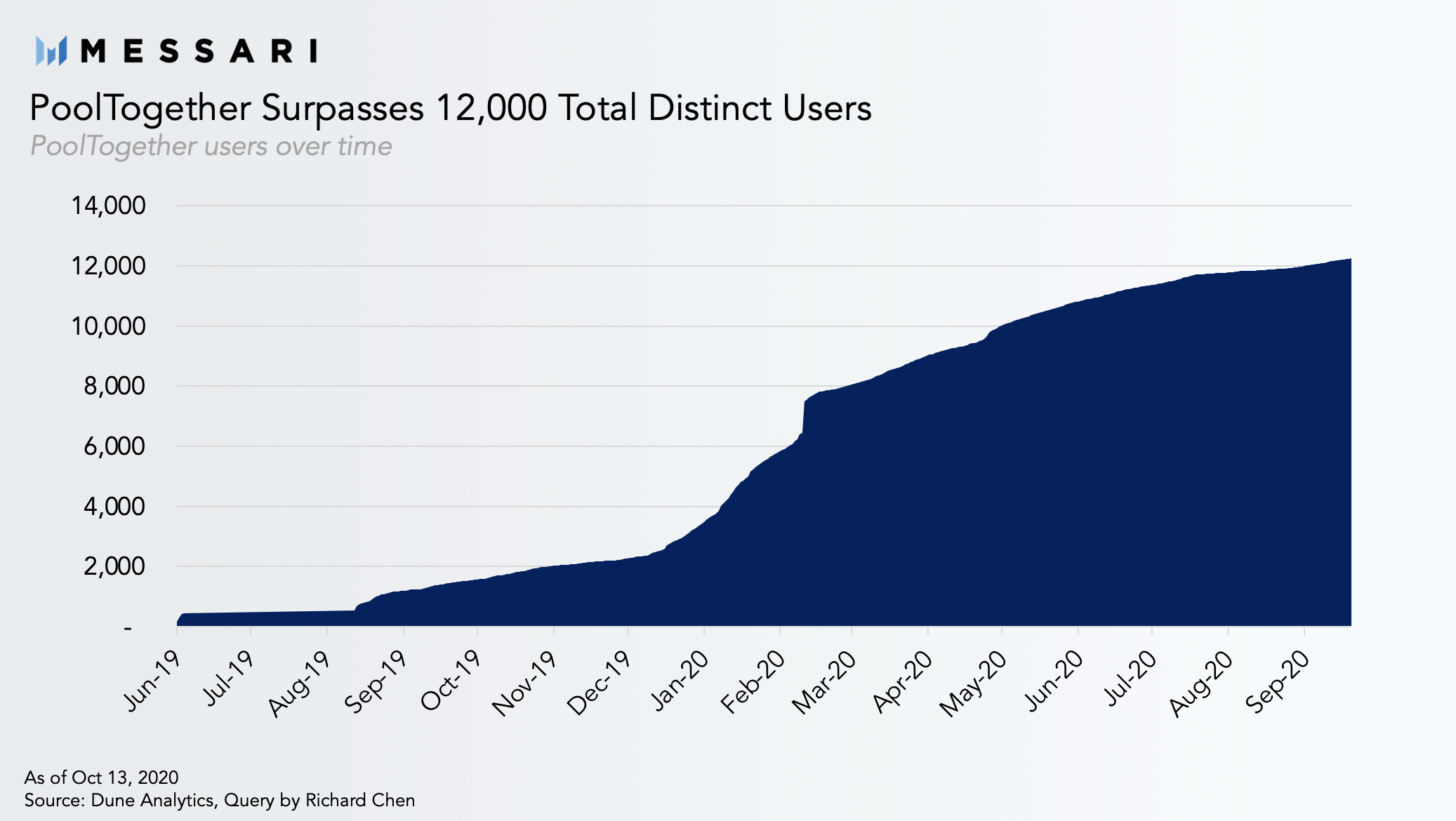 A New Protocol With New Yield This V3 release transforms PoolTogether from a smart contract into a fully-fledged protocol. With this upgrade, PoolTogether is capable of handling bigger prizes, lower gas costs, new asset types, yield sources, and more complex functions.
The protocol has launched with just one weekly prize pool using Dai. Once this prize pool grows to a $10,000 weekly prize (which requires ~8 million in deposited funds), there will be a community vote on what the next prize pool will be denominated in. The protocol supports the creation of prize pools using any asset listed on Compound and pools can also use yEarn vaults to earn additional yield.
The PoolTogether protocol also has more flexibility to accrue a wider range of governance tokens. From the previous version, PoolTogether has already accrued 15,000 COMP tokens worth ~$1.7 million from allocating Dai ticket sale proceeds to Compound. In V3, they can allocate ticket sale proceeds to protocols like Curve and earn CRV tokens, for example.
Progressive Decentralization The V3 release is a step towards full protocol decentralization by implementing the following features: - Removes upgradability from the core prize pool contract storing deposits - Eliminates the need for a privileged administrator to manage prize awards - Removes reliance on the core team for randomness generation Still, the V3 protocol requires management of some parameters and so governance of the protocol is still operated by the PoolTogether company. However, the team plans to decentralize control of the PoolTogether protocol as soon as possible. How or when PoolTogether plans to further decentralize is still TBD. One likely scenario is that the team will eventually release some form of governance token - potentially underpinned by fees - that oversees the protocol.
The team behind PoolTogether already discovered a worthwhile use case and established product-market fit. Some key metrics to watch moving forward are how quickly the PoolTogether team reaches its ~$8M TVL target, and which assets are added into new pools. The DeFi ecosystem continues to build a chest of money legos and it's exciting to see how they are pooled and pieced together.
3 coins to keep an eye on 👀
Subscribe to receive a weekly selection of 3 coins to watch closely, based on upcoming events and technical analysis.