News
27 Feb 2020
OnChainFX Alert: Red Swan tokenizes $2.2 billion worth of real estate through Polymath
Real estate marketplace Red Swan has announced it tokenized $2.2 billion worth of commercial real estate through Polymath. Red Swan is now offering $780 million of these real estate-backed tokens to accredited investors in a pre-sale. The company only used Polymath's platform and security token standard to create and issue its tokens, which now run on Ethereum, while Red Swan plans to hand the appraisal and sales components of each deal.
While correlation does not imply causation, Polymath's token, POLY, happens to be up over 30% today. Check out our latest OnChainFX alert for more.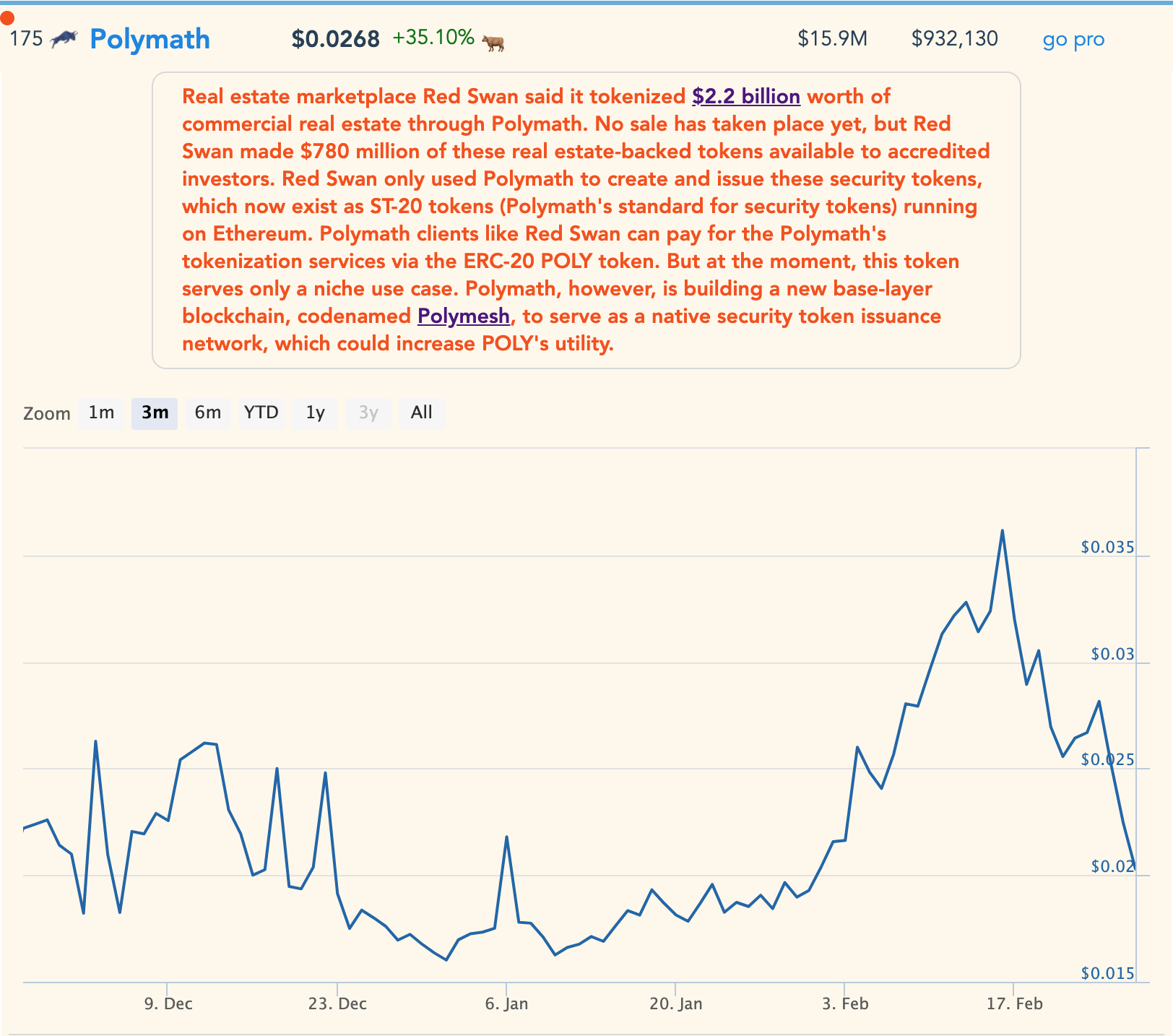 Why it matters: - Tokenizing traditional assets, especially in real estate, has been slow to take off as firms have struggled to generate investor demand. Red Swan claims its approach is different from companies like Harbor, Propellr, and Fluidity because of its experience in the private real estate market. Comparatively, Polymath's Graeme Moore said these other blockchain real estate ventures were technology companies first and "didn't really have the real estate background or the expertise to understand how the private real estate market works." - Polymath's platform currently operates and issues tokens on Ethereum. But the project is building a new base-layer blockchain, codenamed Polymesh, via the Substrate framework to serve as a native security token issuance network. It will be interesting to see if any projects working with Polymath at the moment transition to its Substrate-based platform down the road.
3 coins to keep an eye on 👀
Subscribe to receive a weekly selection of 3 coins to watch closely, based on upcoming events and technical analysis.