News
15 July 2020
Grayscale reports record $906 million in quarterly inflows
Today Grayscale released its Q2 Digital Asset Investment report detailing activity around its cryptocurrency investment trust products. The firm reported a record $905.8 million in quarterly inflows across all products, nearly double the previous quarterly record of $503.7 million in 1Q20. This translates into about $69.7 million in weekly inflows throughout Q2. The Grayscale Bitcoin Trust and Grayscale Ethereum Trust both experienced record quarterly inflows of $751.1 million and $135.2 million, respectively. Grayscale products have received more than $2.6 billion in inflows since inception, and more than $1.4 billion in 1H20 alone.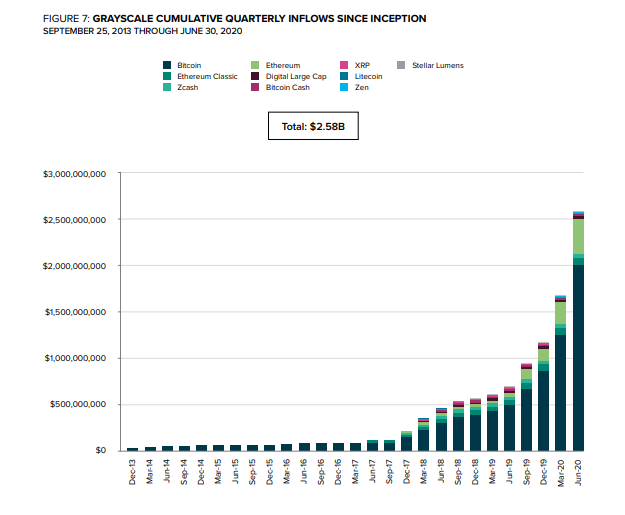 Why it matters: - Grayscale is a significant buyer of cryptocurrencies, however, Grayscale inflows have a more nuanced effect on spot demand than many would think. Initial trust shares are only available to accredited investors and can be created either using cash or cryptocurrency ("in-kind"). Historically many investors have elected to create shares using cryptocurrencies in part to arbitrage the premium shares trade at on the secondary market. This eventually leads to spot demand if these investors borrowed those shares (as they commonly do to perform this arbitrage trade); however, this comes after a 6 - 12 month lock up period depending on the product (for more on this see here). - Grayscale products are a 1 way street. Cryptocurrencies can only flow into the trust, but not out of them. So regardless of how new shares are created Grayscale is increasingly holding a large amount of cryptocurrencies. It holds just under 2% of the total Bitcoin supply alone.
3 coins to keep an eye on 👀
Subscribe to receive a weekly selection of 3 coins to watch closely, based on upcoming events and technical analysis.