News
02 July 2020
Global tax authorities uncover $11 trillion in offshore financial accounts after information exchange, according to OECD
On Tuesday, the Organisation for Economic Co-operation and Development (OECD) revealed that global tax authorities uncovered EUR 10 trillion ($11 trillion) in offshore financial accounts after obtaining data on over 84 million financial accounts held offshore by their residents. The information exchange is part of the Common Reporting Standard, which requires countries and jurisdictions to exchange financial account information from non-residents obtained from their financial institutions automatically on an annual basis, reducing the possibility for offshore tax evasion.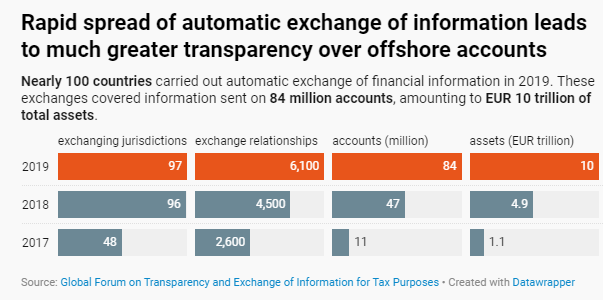 Why it matters: - The $11 trillion amount is more than 12% of global GDP, a massive number indicative of the potential addressable market for many cryptoassets including Bitcoin, privacy coins, and stablecoins.. - Many of the motivations for individuals and organizations storing wealth offshore including privacy, tax evasion, and protection against domestic political or economic instability, can be satisfied by cryptoassets.
3 coins to keep an eye on 👀
Subscribe to receive a weekly selection of 3 coins to watch closely, based on upcoming events and technical analysis.