News
01 April 2020
Does the percentage of total tokens staked have an impact on price?
Staking has been a trending theme over the last few years. The high-profile launches Cosmos and Tezos, the rise of staking services, and the noise generated by Ethereum's long-awaited upgrade have all helped drive the narrative that proof-of-stake (PoS) could be the next evolution of consensus mechanisms.
Some investors have acted on this narrative by not only placing bets on specific networks but also staking their holdings in search of inflation rewards (a commonly misunderstood concept). Since staking incentives and token use cases vary across protocols, the total number of tokens staked on a network at any given time can vary as well. But does the percentage of tokens staked have an impact on price?
Our analysis shows the correlation between the percentage of liquid supply stake and price return YTD is fairly weak.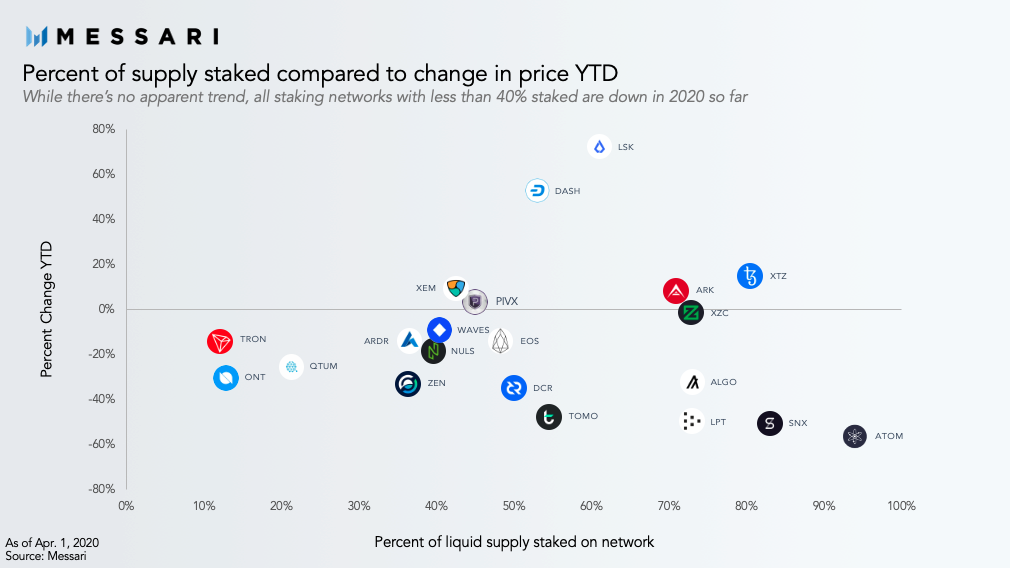 Despite the lack of a definitive trend, all of the staking protocols that have less than 40% of its liquid supply staked are down in price this year. On the other end, the two networks with the highest staking totals experienced the most significant price drops YTD.
Locking up tokens can reduce velocity (the rate at which funds are exchanged), which can have the secondary effect of lessening sell pressure. But the price movements observed here are more closely related to project-specific announcements as well as the general direction of the overall market (which has been decidedly down due to a tumultuous last month). Dash, for instance, announced it is aiming to increase network utility with the upcoming launch of on-chain data contracts. In contrast, Cosmos has dealt with some internal team issues as core contributor Tendermint Inc. shifted company priorities and opted to "part ways" with a few developer teams.
3 coins to keep an eye on 👀
Subscribe to receive a weekly selection of 3 coins to watch closely, based on upcoming events and technical analysis.