News
29 July 2020
Cardano completes Shelley hard fork as ADA almost hits two-year high
Cardano completed its long-awaited Shelley hard fork today, transitioning its blockchain from a federated network managed primarily by the Cardano Foundation to a community-run protocol. The new Shelley mainnet introduces Cardano's proposed Proof-of-Stake (PoS) layer, which allows users to contribute to the transaction validation process either directly (by operating a stake pool) or indirectly (via delegation) in exchange for staking rewards. The first rewards distribution will occur on Aug. 18.
Shelley is just the second step in a series of upgrades first proposed by the project. The next phase, called Goguen, will introduce smart contract functionality. Lead Cardano developer IOHK anticipates launching Goguen before the end of the year. Subsequent upgrades Voltaire and Basho intend to unlock the project's proposed on-chain governance system and Hydra scaling system, respectively.
Why it matters: - Shelley has been a potential catalyst for ADA's recent price surge, which is just shy of a two-year high. Whether it's related to a pent up demand for staking or not, these gains might speak to a larger trend regarding token projects upgrading their tokeneconomics to include staking.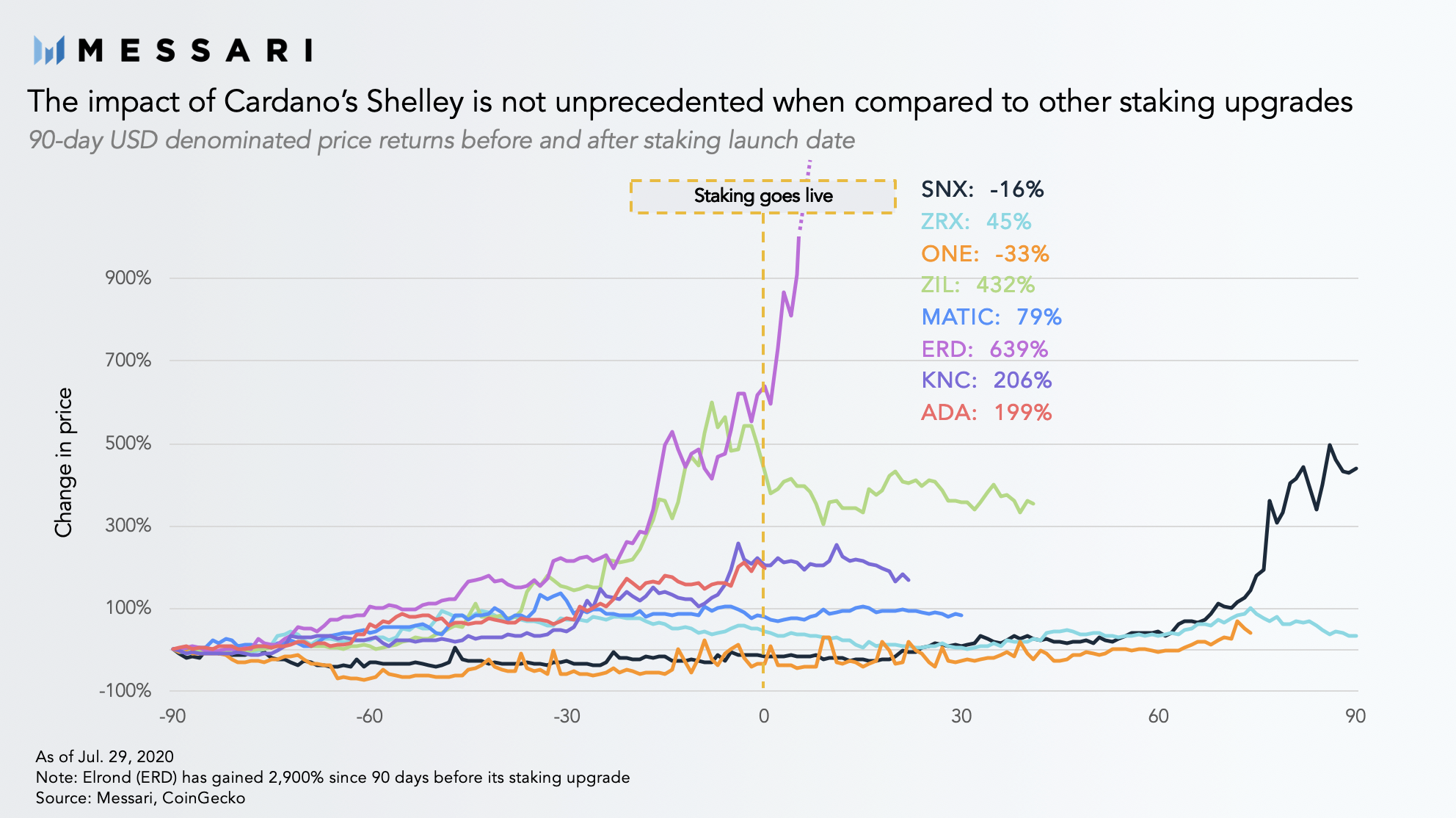 Staking can be an effective way to incentivize users to contribute their time and resources to secure a network. However, staking alone is not a value capture mechanism. The act can siphon off a portion of the available token supply. But if staking is the only use case in demand, there's no competing reason for users to acquire a network's native asset. Where Cardano and ADA go from here will depend on when Goguen arrives and how much activity future Cardano-based applications generate.
3 coins to keep an eye on 👀
Subscribe to receive a weekly selection of 3 coins to watch closely, based on upcoming events and technical analysis.