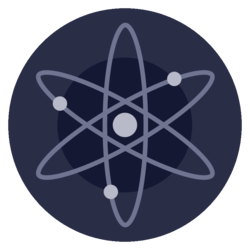 Cosmos (ATOM)
$19.83
(

-8.32 %

)
View coin
|
REN (REN)
$0.890000
(

-6.65 %

)
View coin
|
Zilliqa (ZIL)
$0.189987
(

-5.31 %

)
View coin
Newsletter
05 Oct 2020
3 coins to keep an eye on | Issue #98
---
Price
$5.29 (0.63 %)
฿0.00049257 (-0.47 %)
Market Cap
$1 078 942 555
฿100 467.62
Volume (24h)
$286 153 418
฿26 645.67
Exchange
Crypto.com
After a meteoric 245% rise in July alone, ATOM has almost fully retraced and could form a reversal.
The bullish trendline, consolidation area, and 62% fib retracement converge near a former price inefficiency near $4.256. This level provided support - and also provided the base to what many traders may view as a potential inverse head and shoulders pattern reversal.
Bulls might take positions in the current area or on a pullback toward the previous week's low. Targets include a previous week's high and probable resistance levels up to $6.978.
Bears could enter near the bearish trendline and a previous week's high near $5.596. Targets range from the previous weekly low down to price inefficiency near $4.304.
---
Price
$0.265252 (-4.32 %)
฿0.00002470 (-4.92 %)
Market Cap
$234 855 718
฿21 869.00
Volume (24h)
$57 091 835
฿5 316.21
Exchange
Crypto.com
REN's chart tells a similar story to ATOM as late-summer bears claw back the bulls' gains.
However, the bulls found enough strength near the previous yearly high at $0.1549 to create a reversal. A retracement from resistance near $0.2833 could give both bulls and bears an entry.
Probable support near $0.2451 could offer bulls an entry this week. Targets include the previous weekly highs near $0.3206 and potentially beyond to the highs at $0.36.
Bears planning to sell Tuesday's news could enter at the current region while targeting the previous weekly lows at $0.1976 and swing lows at $0.1590.
---
Price
$0.020752 (6.51 %)
฿0.00000193 (4.83 %)
Market Cap
$217 532 348
฿20 255.90
Volume (24h)
$86 750 236
฿8 077.90
Exchange
Crypto.com
ZIL spent the summer consolidating in a massive 100% range and is now swinging toward the range's upper boundary.
After dipping below the lows at near $0.0146, the price began stair-stepping upwards. Bulls found support near $0.0167 and $0.0184 before crossing the previous year's opening level.
Incoming bulls could enter near $.0192, where structures from the yearly open and September's price structures mark probable support. Targets range from the previous swing high near $0.0246 to last year's highs at $0.0278.
Bears could enter on weakness near previous weekly and monthly highs around $0.0235. Probable targets include monthly and weekly lows near $0.0128 and $0.0148.
3 coins to keep an eye on 👀
Subscribe to receive a weekly selection of 3 coins to watch closely, based on upcoming events and technical analysis.