Crypto.com Coin (CRO)
$0.120566
(

-4.55 %

)
View coin
|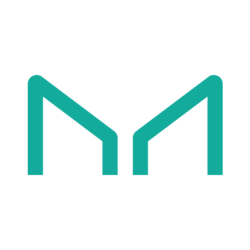 Maker (MKR)
$2 814.70
(

-2.85 %

)
View coin
|
TomoChain (TOMO)
$2.66
(

-0.68 %

)
View coin
Newsletter
24 Dec 2019
3 coins to keep an eye on | Issue #61
---
Price
$0.034914 (-4.41 %)
฿0.00000477 (-1.51 %)
Market Cap
$435 639 409
฿59 576.59
Market Cap
$6 660 103
฿910.81
Exchange
Binance
Trend traders watching CRO since August might have fallen asleep from boredom as the price wobbled sideways through its range. If so, they missed the recent breakout.
A bullish TK cross on the Ichimoku cloud (just over a week ago) suggested bullish momentum. Then, last week, bulls crashed through the range's final resistance around 0.00000479.
Immediately after, a brief retest appears to have confirmed the resistance's flip to support as a bull flag began forming.
The price is currently struggling with resistance from the Ichimoku cloud's kijun, as well as a weekly orderblock hovering overhead. However, inside this weekly orderblock is an overlap of two daily orderblocks. This overlap gives a reasonable target for bulls speculating on possible news from this Friday's joint AMA.
---
Price
$441.55 (-5.02 %)
฿0.06038440 (-2.05 %)
Market Cap
$441 546 321
฿60 384.40
Volume (24h)
$4 784 095
฿654.26
Exchange
Binance
After a played-out uptrend that began in August, MKR hangs at a make-or-break point. This setup gives both bulls and bears potential (but still unconfirmed) opportunities.
Not content with punching through resistance around 0.063 in early November, the bulls assaulted a weekly orderblock starting at 0.078735. This level provided stiff resistance and faded the bulls' enthusiasm, resulting in the price's gradual bleed to the previous 0.63 breakout level.
The overlap of daily and weekly orderblocks at this breakout level provided some support on last week's first test - but for how long will it hold?
A break of this level might leave bears targeting probable support at the daily orderblock and S1 around 0.0495. On the other hand, if this level holds, bulls might look for a short-term play focusing the weekly orderblock and pivot around 0.069.
---
Price
$0.582217 (0.46 %)
฿0.00007964 (2.86 %)
Market Cap
$39 110 265
฿5 349.96
Volume (24h)
$16 929 597
฿2 315.83
Exchange
Binance
December 8th marked the start of a stunning liftoff from TOMO, with the price printing an over 202% gain within a week.
As seasoned traders would expect, the frenzied pump has begun to cool off. Currently, it's testing support at the daily orderblock around 0.00007286 (which shares its EQ with a crucial weekly level).
So far, this zone has provided support during the first test and could be the foundation for a forming bull flag - which would hint at further bullish continuation.
If bears take control and break this support level, another probable support is near the previous resistance at the weekly level and daily orderblock around 0.0000498. Otherwise, the current zone provides an excellent entry for bulls expecting continuation - especially if TOMO lets any fuel for hype slip during Friday's joint AMA.
3 coins to keep an eye on 👀
Subscribe to receive a weekly selection of 3 coins to watch closely, based on upcoming events and technical analysis.