Holo (HOT)
$0.001027
(

-0.13 %

)
View coin
|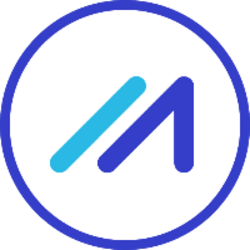 Marlin (POND)
$0.008388
(

-1.54 %

)
View coin
|
Utrust (UTK)
$0.055467
(

-0.53 %

)
View coin
Newsletter
22 May 2023
3 coins to keep an eye on | Issue #234
---
Price
$0.001637 (-0.39 %)
฿0.00000006 (-0.27 %)
Market Cap
$290 782 775
฿10 815.84
Volume (24h)
$7 148 046
฿265.91
Supply
177 619 433 541 (Max)
177 619 433 541 (Available)
HOLO has retraced into the bottom quarter of its 2023 range, increasing the odds that the price will find at least short-term support.
The price is testing possible support around $0.001637, near December's monthly open. This level is also near the midpoint of May 8th's weekly wick and overlaps with a daily gap from March. Bulls rejected bears at this level in early May and could find support at it again.
Just above, bulls rejected bears on the weekly chart on March 6th near $0.001692. The price might retrade to and find resistance at this level. It also contains the 18 EMA and is where bears rejected bulls in mid-May after a gentle move upward.
A strong rally will likely aim for bears' stops trailed above the $0.001751 daily swing high. Above this high, a weekly gap at $0.001767 and the 40 EMA may provide stiff resistance. Tuesday's AMA could reveal news to catalyze this stop run.
Q4 formed relatively equal lows near $0.001380. Bulls' stops under these lows might continue to draw the price downward.
If bears keep the upper hand, May's relative equal lows near $0.001575 offer a tempting target for a sweep into the bottom of January 9th's weekly gap. Bulls also rejected bears near this level on March 11th. If this move occurs, the open weekly gap and mid-May's retracement mean that it could happen very aggressively.
---
Price
$0.008544 (-1.45 %)
฿0.00000032 (-1.33 %)
Market Cap
$69 104 276
฿2 570.37
Volume (24h)
$2 223 481
฿82.71
Supply
5 033 753 055 (Max)
8 087 375 977 (Available)
Like HOLO, POND has also dropped into the bottom quarter of 2023's range, increasing the chance for a short-term rally.
Bears' stops above relative equal highs at $0.00899 provide a clear potential upside target. Above these highs, an unfilled weekly gap reaches up to $0.00932, where bulls rejected bears during the week of March 6th. This area, near the 40 EMA, could provide resistance and a possible bearish turning point.
A spike further might reach slightly higher to the base of late April's consolidation. This level also has confluence with the first unfilled daily gap after May 6th's breakdown.
The price is consolidating inside possible support between $0.00877 and $0.00849. This zone saw accumulation before May 11th swept bulls' stops under March 6th's weekly low.
If bears regain control - more likely after a possible sweep of the $0.00899 highs near Thursday's event - they may push for bulls' stops under May 12th's swing low at $0.00802.
If this drop happens, the price could find support near $0.00793. Bulls rejected bears on the weekly chart at this level in November. It also saw significant accumulation before the early 2023 rally.
---
Price
$0.121091 (7.49 %)
฿0.00000450 (7.63 %)
Market Cap
$57 177 108
฿2 126.99
Volume (24h)
$6 807 207
฿253.21
Supply
500 000 000 (Max)
470 000 000 (Available)
Unlike HOLO and PON, UTK has already rallied from the bottom quarter of its range. This price climb could aim to give buyers a chance to sell before traders "sell the news" of Thursday's rebranding.
Bears have rejected bulls on the weekly chart between approximately $0.1241 and $0.1184. The price recently ran into this level, and then the four-hour chart showed some signs of distribution. This level might provide resistance that causes a retracement soon.
A daily gap near the midpoint of the current rally, around $0.1061, may be a potential retracement target. The price could aim to rebalance this area, which also holds the 40 and 18 EMAs.
If bulls can find the strength to push through resistance, aggressive bears' stops above $0.1298 are the next target. Bears rejected bulls in October, February, and April near $0.1349 on the monthly chart. This level might provide resistance if bulls can continue the rally.
A drop below the $0.1061 daily gap may find its next speed bump near $0.0948. Bulls accumulated here in December on the monthly chart. The weekly chart shows that they rejected bears near this level multiple times, and the daily chart shows accumulation before a stop run at the origin of the most recent rally.
3 coins to keep an eye on 👀
Subscribe to receive a weekly selection of 3 coins to watch closely, based on upcoming events and technical analysis.