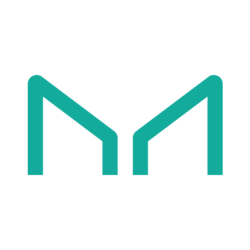 Maker (MKR)
Market cap
$1 382 510 289
฿37 710.36
Volume (24h)
$251 834 809
฿6 872.94
Supply
995 928 (Max)
902 372 (Available)
---
Manage the events related to Maker
Maker is a peer-to-contract lending platform enabling over-collateralized loans by locking Ether in a smart contract and minting Dai, a stablecoin pegged to the US dollar. Dai's stability is achieved through a dynamic system of collateralized debt positions, autonomous feedback mechanisms and incentives for external actors. Once generated, Dai can be freely sent to others, used as payments for goods and services, or held as long term savings.
Exchanges
Trade on
crypto.com
Powered by
3 coins to keep an eye on 👀
Subscribe to receive a weekly selection of 3 coins to watch closely, based on upcoming events and technical analysis.